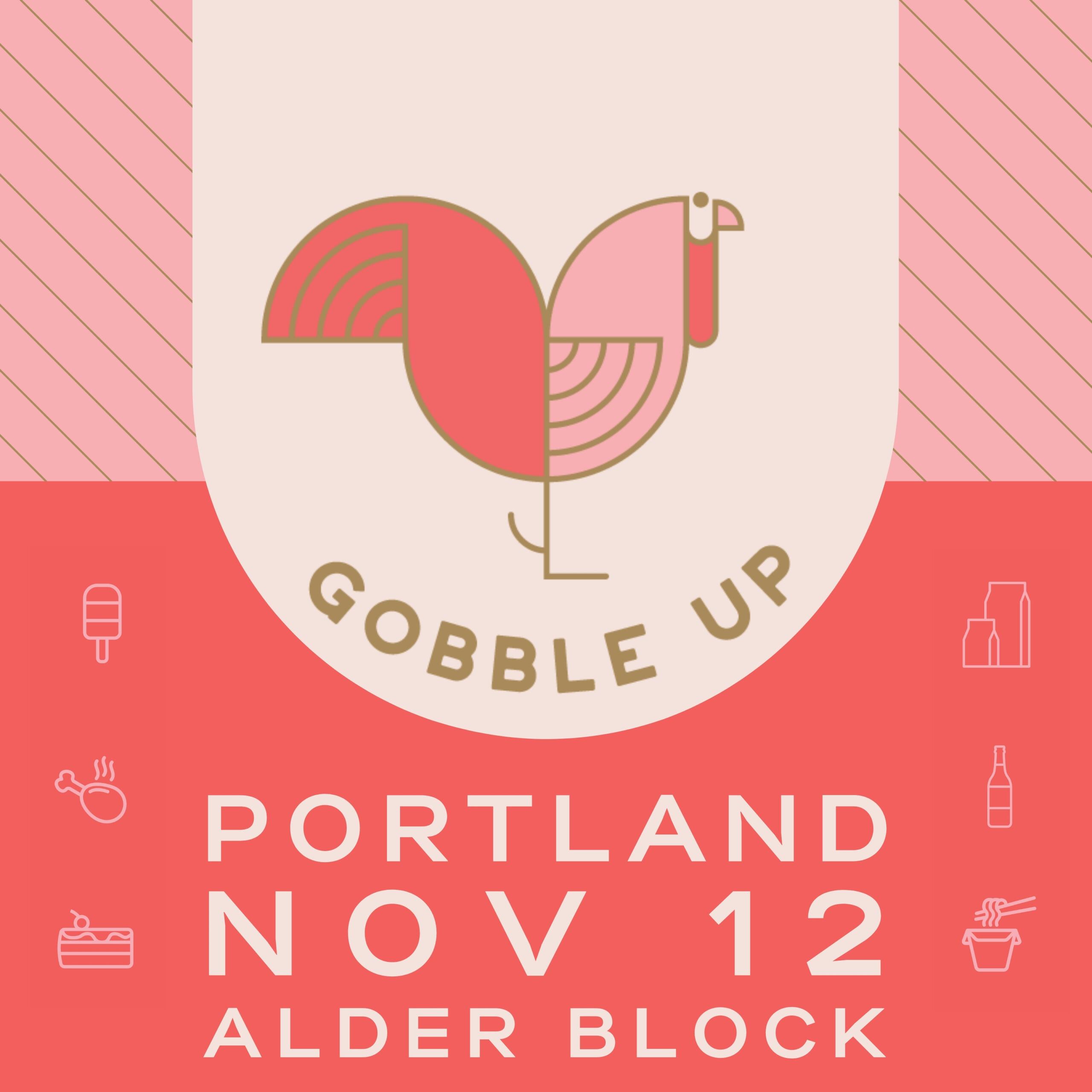 vendors
Each of our Gobble Up shows features 75+ of the raddest local food, beverage, & kitchenware makers around. Click here for a sneak peek at who you'll find at the show!
Book Signings with local authors every hour
Cookbooks are always a fabulous gift idea for any food lover in your life…including yourself! Pick up a copy for yourself when you come to Gobble Up, and have it signed by the author on-the-spot.
Wine Food: New Adventures in Drinking and Cooking
by Dana Frank & Andrea Slonecker

Wine Food is a wine course in a cookbook for everyone who wants to learn about wine simply by drinking it. Here, natural wine bar and winery owner Dana Frank and wine-loving recipe writer Andrea Slonecker distill the basics—how to buy, how to store, how to taste—and deliver more than seventy-five instant-hit recipes inspired by delectable, affordable wines that go with them beautifully.
Each recipe opens with a succinct summary of the wine style that inspired it, followed by a brief explanation of how it complements the flavors and textures in the recipe. There are also recommendations for three to eight producers of each wine style.
Kachka: A Return to Russian Cooking

by Bonnie Morales & Deena Prichep

Celebrated Portland chef Bonnie Frumkin Morales brings her acclaimed Portland restaurant Kachka into your home kitchen with a debut cookbook enlivening Russian cuisine with an emphasis on vibrant, locally sourced ingredients.
From bright pickles to pillowy dumplings, ingenious vodka infusions to traditional homestyle dishes, and varied zakuski to satisfying sweets, Kachka the cookbook covers the vivid world of Russian cuisine. More than 100 recipes show how easy it is to eat, drink, and open your heart in Soviet-inspired style, from the celebrated restaurant that is changing how America thinks about Russian food.
Dumplings Equal Love: Delicious Recipes from Around the World
by Liz Crain
Shumai, gyoza, mandu, komber, pierogis: a dumpling by any other name would taste as comforting. The original comfort food in every culture, the humble dumpling takes center stage in this full-color cookbook. Author Liz Crain offers up beloved staples like Chinese soup dumplings, Japanese gyoza, and Eastern European pierogi with easy, step-by-step instructions for dumpling skins and fillings. There are also many regional twists on dumplings, with innovative fillings, dumpling doughs, and dipping sauces. Taste the love with Cincinnati Chili; Shrimp & Grits; Nettle & Caramelized Onions; and Bananas Foster Dumplings.
Taste & Technique: Recipes to Elevate Your Home Cooking

by Naomi Pomeroy

James Beard Award-winning and self-made chef Naomi Pomeroy's debut cookbook, featuring nearly 140 lesson-driven recipes designed to improve the home cook's understanding of professional techniques and flavor combinations in order to produce simple, but show-stopping meals.
In Taste & Technique, Naomi shares her hard-won knowledge, passion, and experience along with nearly 140 recipes that outline the fundamentals of cooking. By paring back complex dishes to the building-block techniques used to create them, Naomi takes you through each recipe step by step, distilling detailed culinary information to reveal the simple methods chefs use to get professional results.
Cooking with Whey: A Cheesemaker's Guide to Using Whey in Probiotic Drinks, Savory Dishes, Sweet Treats, and More
by Claudia Lucero

Anyone who's ever made cheese at home knows that roughly three-quarters of every gallon of milk transforms into a perplexing byproduct called whey. "Don't throw away your whey!" says cheesemaker Claudia Lucero. In Cooking with Whey, Lucero shares 60 inventive recipes that use whey, which is rich in protein, minerals, and vitamins, and adds creaminess and flavor to foods. Sweet whey, a byproduct of cheesemaking enhances baked goods and smoothies. Acid whey, produced in yogurt- and kefir-making, is ideal for brining meat, kick-starting ferments, and adding tang to main dishes. From Brazilian Limeade and Strawberry Oat Milk to Skillet Cornbread, Broth-Poached Salmon, Honey Caramels, Espresso Martinis, and many more mouth-watering recipes for beverages, soups, breads, desserts, and everyday meals, this book is the key to unlocking a delightfully surprising array of ways to put whey to work!
raffle prizes
We'll have FREE raffles going on throughout the day, and you can win gift certificates and prizes from all the rad local businesses and restaurants you see listed below, just by coming out and shopping at Gobble Up!
THANK YOU TO OUR GENEROUS SPONSORS!