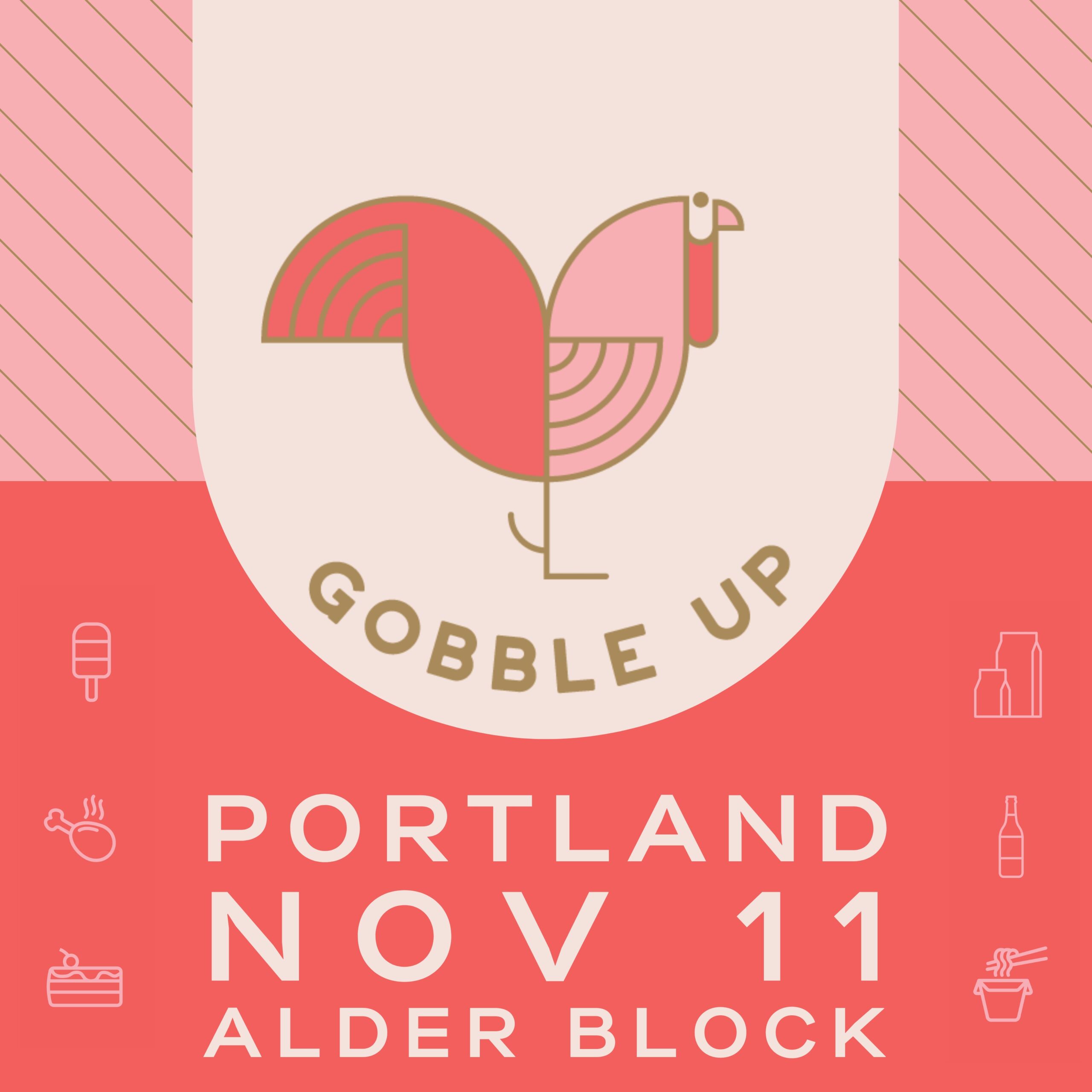 vendors
Each of our Gobble Up shows features 85+ of the raddest local food, beverage, & kitchenware makers around. Click here for a sneak peek at who you'll find at the show!
Book Signings with local authors every hour
Cookbooks are always a fabulous gift idea for any food lover in your life…including yourself! Pick up a copy for yourself when you come to Gobble Up, and have it signed by the author on-the-spot.
Wine Food: New Adventures in Drinking and Cooking
by Dana Frank & Andrea Slonecker

Wine Food is a wine course in a cookbook for everyone who wants to learn about wine simply by drinking it. Here, natural wine bar and winery owner Dana Frank and wine-loving recipe writer Andrea Slonecker distill the basics—how to buy, how to store, how to taste—and deliver more than seventy-five instant-hit recipes inspired by delectable, affordable wines that go with them beautifully.
Each recipe opens with a succinct summary of the wine style that inspired it, followed by a brief explanation of how it complements the flavors and textures in the recipe. There are also recommendations for three to eight producers of each wine style.
THE CHICKEN SOUP MANIFESTO

by JENN LOUIS

This is a celebration of one of the most widely interpreted, and beloved dishes the world over. With more than 100 recipes dedicated to this one special, often humble, meal, James Beard-nominee Jenn Louis shows readers how chicken soup is not only a source of heart-warming sustenance, but also a cure-all and the ultimate expression of love.
With chapters broken down by region and country, The Chicken Soup Manifesto includes everything from Algerian Chorba Bayda, Colombian and Panamanian Sancocho and Thai Kao Tom Gai to Spanish Sopa de Picadillo. Along with the recipes, Jenn also covers essential chicken know-how, from selecting and storing, to stock 101 and brining. The book is fully photographed with a design that establishes it as a collectible object as much as a hard-working guide to the world's favorite soup.
Taste & Technique: Recipes to Elevate Your Home Cooking
by naomi pomeroy

Naomi Pomeroy knows that the best recipes are the ones that make you a better cook. A twenty-year veteran chef with four restaurants to her name, she learned her trade not in fancy culinary schools but by reading cookbooks. From Madeleine Kamman and Charlie Trotter to Alice Waters and Gray Kunz, Naomi cooked her way through the classics, studying French technique, learning how to shop for produce, and mastering balance, acidity, and seasoning.
In Taste & Technique, Naomi shares her hard-won knowledge, passion, and experience along with nearly 140 recipes that outline the fundamentals of cooking. By paring back complex dishes to the building-block techniques used to create them, Naomi takes you through each recipe step by step, distilling detailed culinary information to reveal the simple methods chefs use to get professional results.
diy fermentation for vegan fare

by AARON ADAMS & LIZ CRAIN

Like The Noma Guide to Fermentation but with a punk, DIY aesthetic and a it's-OK-to-fail ethos, Fermenter provides the sought-after secrets and words of wisdom from top fermentation educators, Aaron Adams and Liz Crain.
Based in Portland, Oregon (vegan capital of America), the Fermenter restaurant specializes in culinary fermentation to achieve their unique funky flavors. Learn how to handcraft local bean-and-grain tempehs, fresh and aged vegan cheeses, fizzy probiotic drinks, and koji ferments and revolutionize the flavor profiles in your home kitchen! They empower you to follow them down this highly addictive (and inexpensive) path, resulting in totally DIY food, free from mass-produced or corporate anything.
raffle prizes
We'll have FREE raffles going on throughout the day, and you can win gift certificates and prizes from all the rad local businesses and restaurants you see listed below, just by coming out and shopping at Gobble Up!
THANK YOU TO OUR GENEROUS SPONSORS!